About Our Programs
The Appalachian State University Geological and Environmental Sciences Department (aGES) provides students with a solid foundation on which to build a successful career in the geosciences and environmental sciences. We are the largest undergraduate geosciences department in the UNC system, and we have been successful in establishing a program that is arguably among the best Bachelor degree programs in earth and environmental sciences available in the southeastern United States.
At aGES, we offer the following degree programs and concentrations: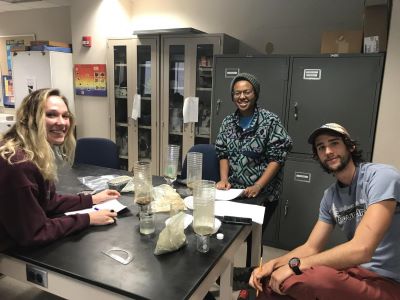 See our What should I major in? page to determine if our programs are right for you!
See Get Involved! for opportunities for aGES students in research, outreach, and teaching.

Ask A Geologist
You've got questions? We've got answers! Ask A Geologist!
Did you find something that puzzled you in your backyard or on top of a mountain? Have questions about local environmental problems? Want to know about what's going on in Boone Creek, the Watauga River, and the New River? Concerned about fracking in your region? Do you have a mineral that you can't identify? Think you found a meteorite? We will do our best to answer any geological/environmental question. We also have pages that answer some of our most frequently asked questions.
What's so special about our department?
We study more than just rocks.