Dr. Johnny Waters served as Chair of the Department from 2004-2012 before returning to teaching and research. He retired from teaching in 2016, but maintains an active research program. A paleontologist by training, Waters has conducted international fieldwork for 40 years. His research interests include rebound from mass extinctions, Paleozoic community evolution, and the paleobiology of Paleozoic echinoderms, especially blastoids. He was a co-leader of the UNESCO-funded International Geoscience Programme (IGCP) 596 (Climate Change and Biodiversity Patterns in the Mid-Palaeozoic).
More information about his mass extinction and paleoclimate research is available at devonian.appstate.edu.
Education
B.S. Auburn University
M.S. Indiana University
Ph.D. Indiana University
Courses Taught
GLY 1102 - Introduction to Historical Geology
GLY 2250 - Evolution of the Earth
HON 1515 - Darwin
HON 1515 - Candle in the Dark
Website and CV
Research Highlights
Explorers Club Fellow National 2004; Atlanta Chapter (Expedition of the Year Award 2018); Legacy Society; Member Famous Firsts

40 years of international fieldwork (and counting) starting in Ireland in 1982 during The Troubles. Our best locality was on the border between the Republic and Northern Ireland and we were stopped by British army patrols.
12 trips to China between 1987 - 2015. Fieldwork delayed because of Tiananmen Square (1989). Fieldwork cancelled when the US bombed the Chinese embassy in Belgrade (1999).
7 trips (and counting) to Mongolia since 2011, with the latest in 2022.
Additional fieldwork in England, Ireland, Germany, France, Russia (Moscow Basin, Urals and Siberia), Indonesia, Morocco, and Tanzania. Submersible dives in Roatan to 2000' in the Idabel, Karl Stanley's DIY submarine.

36 grants or contracts providing almost continuous financial support during my career from the National Science Foundation, National Geographic, UNESCO, American Chemical Society, State and Local governments in Georgia, private foundations, and the Naturalis Biodiversity Center in The Netherlands. Participant in grants funded by the European Union and the German National Science Foundation. I am listed as Senior Personnel on a current grant.
>100 scientific publications, 3 edited books (one with contributions from 114 authors from 30 countries in 26 languages), >150 presentations.
7 students have received Explorers Club grants. One student spoke at ECAD 2015, one was invited to speak at ECAD 2020 (meeting cancelled due to Covid-19), and one is on the 2023 short list for speakers (see the DAGGER website for more information).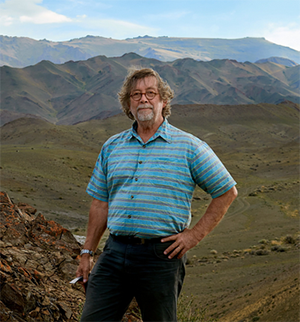 Title:

Emeritus & Adjunct Research Professor: Invertebrate Paleontology
Department:

Department of Geological and Environmental Sciences

Email address: Email me