Brian has been with the Geology Department since 2008 and has taught a myriad of labs, introductory lectures, and freshman seminar. He researches volcanoes and volcanic deposits and is currently working, in conjunction with Dr. Cynthia Liutkus-Pierce, on a set of ancient human footprints preserved in volcanic ash in northern Tanzania. He is a leader of the Land of Fire and Ice GES 1103 trip to Iceland and won the 2015 Teaching Excellence Award (non tenure-track) in the College of Arts and Sciences as well as a 2021-2022 Board of Governors Teaching Award.
You will most likely see Brian in his office, but you may also run into him around campus, feeding the ducks at Duck Pond, at the climbing gym, or juggling with the Appstate Juggling Club on Sanford Mall. Stop by and say hello.
Education
B.S. Allegheny College
M.S. Northern Arizona University
Courses Taught
GES 1101 - Introduction to Physical Geology (labs)
GES 1103 - Environmental Change, Hazards, and Resources (lecture and labs)
GES 1103/2500 - Environmental Change, Hazards, and Resources (Iceland Summer Course - Land of Fire and Ice)
GES 1104 - Water: Mountains to Sea (labs)
GES 2745 - Preparation of Geologic Reports (labs)
UCO 1200 - First Year Seminar (Juggling and the Circus Arts)
Website and CV
Recent Publications
Visit Professor Zimmer's profile on Google Scholar.
Zimmer, B., Liutkus-Pierce, C., Marshall, S. T., Hatala, K. G., Metallo, A., & Rossi, V. (2018). Using differential structure-from-motion photogrammetry to quantify erosion at the Engare Sero footprint site, Tanzania. Quaternary Science Reviews, 198, 226-241.
Liutkus-Pierce, C. M., Zimmer, B. W., Carmichael, S. K., McIntosh, W., Deino, A., Hewitt, S. M., ... & Deocampo, D. (2016). Radioisotopic age, formation, and preservation of Late Pleistocene human footprints at Engare Sero, Tanzania. Palaeogeography, Palaeoclimatology, Palaeoecology, 463, 68-82.
Riggs, N. R., Ort, M. H., Zimmer, B. W., Willcox, C. P., & Branney, M. J. (2012). Recent explosive volcanism at the eastern T rans-Mexican Volcanic Belt. The Southern Cordillera and Beyond, 25, 83.
Zimmer, B. W., Riggs, N. R., & Carrasco-Núñez, G. (2010). Evolution of tuff ring-dome complex: the case study of Cerro Pinto, eastern Trans-Mexican Volcanic Belt. Bulletin of Volcanology, 72(10), 1223-1240.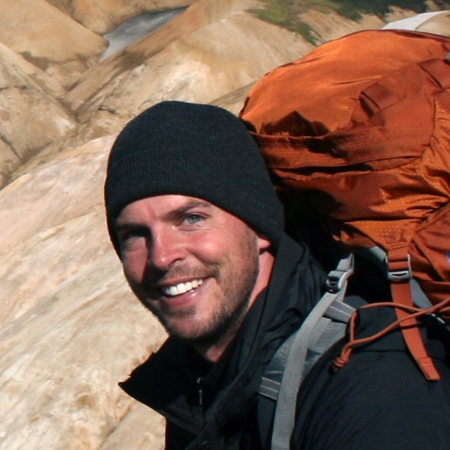 Title:

Senior Lecturer: Volcanology, (he/him/his)
Department:

Department of Geological and Environmental Sciences

Email address: Email me

Phone: (828) 262-2749