One of the benefits of majoring in the Geological and Environmental Sciences at Appalachian is the opportunity to conduct independent research with one or more faculty members in the department.
Research Areas
Participating in research with aGES:
Research is a privilege, not a right. Supervising student research is extremely time- and resource-intensive for faculty.
Be willing to be flexible about your research topic/field, as your first choice of research group may not be available.
Some research groups will require pre-requisite classes before joining; others will not.
Graduate schools care more about research experience than your specific undergraduate research topic.
You do not need to be a straight A student. But you do need to be doing reasonably well in your classes, and keeping up with all academic work, have good time management skills, and not have too many extracurriculars that would interfere with doing research.
You do need be aware of the significant time commitment outside of your regular classes that is required for independent research.
Most students start out on a volunteer basis, and when they have demonstrated that they have the focus, time-management skills, and drive to do independent research, they can be supported by grants or assistantships, or undertake a senior thesis.
You can get academic credit for doing research through:

independent studies GES 2500, GES 3500, and GES 4500
senior thesis GES 4501 and GES 4510

You can get paid to do research through:

grants to invididual faculty members
Internships and Employment
We strongly encourage students to work with other scientists through research internships or summer jobs. Recently, our students have worked at the Smithsonian, the North Carolina Geological Survey, the United States Geological Survey and regional industries including environmental consulting and mining.
Presenting Research
All AGES students are expected to present their independent research at professional meetings and Appalachian's Celebration of Student Research and Creative Endeavors. Most students receive departmental, university, and sometimes national support to present their research at the Geological Society of America conference (both regional and national meetings), the American Geophysical Union meeting, the Society of Vertebrate Paleontologists conference, and a wide variety other regional, national, and international professional meetings.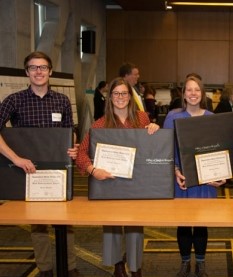 AGES students Jake Dorsett (left) and Morgan Baker (right) receive awards at the 2018 Celebration of Student Research and Creative Endeavors.