One of the benefits of majoring in the Geological and Environmental Sciences at Appalachian is the opportunity to conduct independent research with one or more faculty members in the department.
Research Areas
Internships and Employment
We strongly encourage students to work with other scientists through research internships or summer jobs. Recently, our students have worked at the Smithsonian, the North Carolina Geological Survey, the United States Geological Survey and regional industries including environmental consulting and mining.
Presenting Research
All AGES students are expected to present their independent research at professional meetings and Appalachian's Celebration of Student Research and Creative Endeavors. Most students receive departmental, university, and sometimes national support to present their research at the Geological Society of America conference (both regional and national meetings), the American Geophysical Union meeting, the Society of Vertebrate Paleontologists conference, and a wide variety other regional, national, and international professional meetings.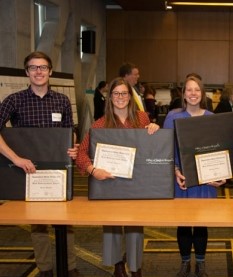 AGES students Jake Dorsett (left) and Morgan Baker (right) receive awards at the 2018 Celebration of Student Research and Creative Endeavors.