Welcome to the Digital Archive for Southeastern Geology (coming soon!)
This digital archive should be fully functional by December 2018. We will update materials as they become available.

---
Duncan Heron, founding editor of Southeastern Geology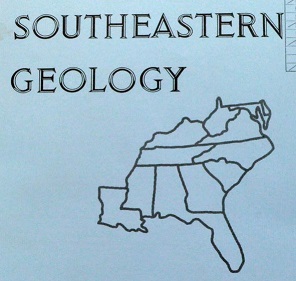 Hosted by Belk Library and Information Commons and the Department of Geological and Environmental Sciences at Appalachian State University, Boone, NC
The home page for the journal and its editorial office are located at https://southeasterngeology.org
Articles in this digital archive are available as PDF download and are grouped by volume number.
PDFs of individual articles are not available at this site, but can be extracted using PDF editing applications.
A complete list of archived articles (all volumes) is available here.
Material that is available but not yet catalogued is available here.
Please report any problems with this archive to: hagemansj@appstate.edu and carmichaelsk@appstate.edu (if you can't find an article and it is before December 2018, it is because it is not yet available).
Links to Tables of Contents and download options (when issue is available, the links will be activated):
Vol. 1, 1959-1960 – Southeastern Geology (link to article list and download options)
Vol. 2, 1960-1961 – Southeastern Geology (link to article list and download options)
Vol. 3, 1961-1962 – Southeastern Geology (link to article list and download options)
Vol. 4, 1962-1963 – Southeastern Geology (link to article list) – Download Volume 4 (pdf)
Vol. 5, 1963-1964 – Southeastern Geology (link to article list) – Download Volume 5 (pdf)
Vol. 6, 1964-1965 – Southeastern Geology (link to article list) – Download Volume 6 (pdf)
Vol. 7, 1965-1966 – Southeastern Geology (link to article list) – Download Volume 7 (pdf)
Vol. 8, 1967 – Southeastern Geology (link to article list) – Download Volume 8 (pdf)
Vol. 9, 1968 – Southeastern Geology (link to article list) – Download Volume 9 (pdf), Download Special Publication 1968 (pdf)
Vol. 10, 1969 – Southeastern Geology (link to article list) – Download Volume 10 (pdf)
Vol. 11, 1969-1970 – Southeastern Geology (link to article list) – Download Volume 11 (pdf)
Vol. 12, 1970-1971 – Southeastern Geology (link to article list) – Download Volume 12 (pdf)
Vol. 13, 1971 – Southeastern Geology (link to article list) – Download Volume 13 (pdf)
Vol. 14, 1972 – Southeastern Geology (link to article list) – Download Volume 14 (pdf)
Vol. 15, 1973 – Southeastern Geology (link to article list) – Download Volume 15 (pdf), Download Special Publication 1973 (pdf)
Vol. 16, 1974-1975 – Southeastern Geology (link to article list) – Download Volume 16 (pdf)
Vol. 17, 1975-1976 – Southeastern Geology (link to article list) – Download Volume 17 (pdf), Download Special Publication 1975 (pdf)
Vol. 18, 1976-1977 – Southeastern Geology (link to article list) – Download Volume 18 (pdf)
Vol. 19, 1977-1978 – Southeastern Geology (link to article list) – Download Volume 19 (pdf)
Vol. 20, 1978-1979 – Southeastern Geology (link to article list) – Download Volume 20 (pdf)
Vol. 21, 1979-1980 – Southeastern Geology (link to article list) – Download Volume 21 (pdf)
Vol. 22, 1981 – Southeastern Geology (link to article list) – Download Volume 22 (pdf)
Vol. 23, 1982 – Southeastern Geology (link to article list) – Download Volume 23 (pdf)
Vol. 24, 1983 – Southeastern Geology (link to article list) – Download Volume 24 (pdf)
Vol. 25, 1984-1985 – Southeastern Geology (link to article list) – Download Volume 25 (pdf)
Vol. 26, 1985-1986 – Southeastern Geology (link to article list) – Download Volume 26 (pdf)
Vol. 27, 1986-1987 – Southeastern Geology (link to article list) – Download Volume 27 (pdf)
Vol. 28, 1987-1988 – Southeastern Geology (link to article list) – Download Volume 28 (pdf)
Vol. 29, 1988 – Southeastern Geology (link to article list) – Download Volume 29 (pdf)
Vol. 30, 1989-1990 – Southeastern Geology (link to article list) – Download Volume 30 (pdf)
Vol. 31, 1990-1991 – Southeastern Geology (link to article list) – Download Volume 31 (pdf)
Vol. 32, 1991-1992 – Southeastern Geology (link to article list) – Download Volume 32 (pdf)
Vol. 33, 1992-1993 – Southeastern Geology (link to article list) – Download Volume 33 (pdf)
Vol. 34, 1994 Southeastern Geology (link to article list) – Download Volume 34 (pdf)
Vol. 35, 1995 Southeastern Geology (link to article list) – Download Volume 35 (pdf)
Vol. 36, 1996-1997 Southeastern Geology (link to article list) – Download Volume 36 (pdf)
Vol. 37, 1997-1998 Southeastern Geology (link to article list) – Download Volume 37 (pdf)
Vol. 38, 1998-1999 Southeastern Geology (link to article list) – Download Volume 38 (pdf)
Vol. 39, 1999-2000 Southeastern Geology(link to article list) – Download Volume 39 (pdf)
Vol. 40, 2001 Southeastern Geology (link to article list) – Download Volume 40 (pdf)
Vol. 41, 2002 Southeastern Geology (link to article list) – Download Volume 41 (pdf)
Vol. 42, 2003-2004 Southeastern Geology (link to article list) – Download Volume 42 (pdf)
Vol. 43, 2004-2005 Southeastern Geology (link to article list) – Download Volume 43 (pdf)
Vol. 44, 2005-2007 Southeastern Geology (link to article list) – Download Volume 44 (pdf)
Vol. 45, 2007-2008 Southeastern Geology (link to article list) – Download Volume 45 (pdf)
Vol. 46, 2008-2009 Southeastern Geology (link to article list) – Download Volume 46 (pdf)
Vol. 47, 2010 Southeastern Geology (link to article list) – Download Volume 47 (pdf)
Vol. 48, 2011-2012 Southeastern Geology (link to article list) – Download Volume 48 (pdf)
Vol. 49, 2012 Southeastern Geology (link to article list) – Download Volume 49 (pdf)