The "Making Rocks" program, introduces Gr. 3-5 students to different rock types and their uses. Many of these resources are part of the Rockin' NC learning module and contain specific information about North Carolina rocks, but will be helpful to teachers in any state and easily adapted. Our resources are all free to use thanks to the Department of Geological and Environmental Sciences at Appalachian State University. If you have questions about any of these resources, field trip opportunities or classroom visits please contact our Outreach Coordinator at mckinneymuseum@appstate.edu. If you would like to borrow rock or mineral samples for your classroom, check out our Loaner Kits.
Resources:
Types of Rock Concept Sorting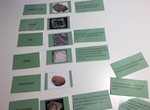 This is a concept sorting activity in which students match the name of the rock, the photograph and description for eight different types of rock (limestone, conglomerate, calcite, travertine, clay, sandstone, shale and chalk). Cards are laminated and each set is color coded, there are 6 student sets. Teacher answer sheet is also included.
---
Rock Padlets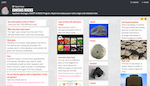 Padlets are virtual bulletin boards where you can type in text, add pictures, links, video or audio clips about a topic. They can also be used collaborative for planning projects or as a Q & A board. We have created Padlets with curated, grade appropriate information about Sedimentary, Igeneous and Metamorphic rocks that students can use as a reference for other activities or before a museum visit.
---
Sample Scramble
An exploration into samples of rocks which have been "scrambled". Students have to determine which rocks come from which field site. Teacher instructions and student handout included in this file.
---
Minecraft Geology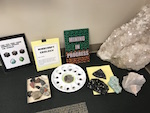 Get students turned on to Geology through the popular computer game Minecraft. These activities can be carried out without access to a computer, in a low tech way, although it is recommended to let students explore the computer game first so they are a bit familiar with it.