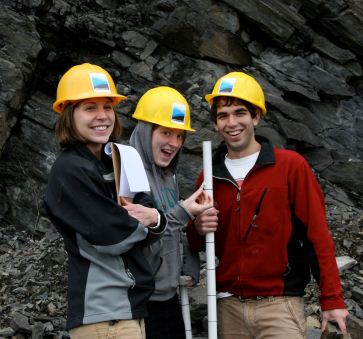 What's so special about the Appalachian Geological and Environmental Sciences (aGES) Department?
We have been successful in establishing a program that is arguably among the best Bachelor degree programs in the geosciences available in the southeastern United States, and we are proud to be home to the largest undergraduate geosciences program in the UNC system.
Recent research indicates that geology majors are the happiest students on college campuses, and our senior exit surveys indicate this is likewise true at Appalachian.
Special privileges, such as keys and 24 hour access to teaching labs, independent research opportunities, and a dedicated undergraduate computer lab are among the benefits of our program.
We have numerous concentrations within our degree program, which can be found on our Degree Tracks page, so you can be sure to find a program of study that aligns with your interests.
What is life in the aGES Department like for an undergraduate?
The close personal contact between faculty, students, and staff results in a feeling of belonging to a tightly knit group. Students get to know each other through field trips, outreach activities, the Appalachian Geological Society ("GeoClub") and the Environmental Sciences Club ("ENV Club") and of course long, late nights in the lab (those 24-hour access keys are a mixed blessing!). The faculty and staff expect a lot from aGES students, and make it a priority to foster a collaborative, supportive atmosphere within the Department.
Resources for students: