Dr. Liutkus-Pierce is a sedimentologist and paleoenvironmental scientist, and is the new chair for the Department of Geological and Environmental Sciences. She has taught Sedimentology and Stratigraphy, Evolution of the Earth, a summer field course focused on the geology of carbonate islands and coral reef environments, as well as a variety of other introductory courses and labs. She was inducted into Appalachian's Academy of Outstanding Teachers in 2016, and was awarded the UNC Board of Governors Appalachian State University Excellence in Teaching Award for 2017.
Dr. Liutkus-Pierce's research focuses on the reconstruction of paleoenvironmental conditions using a variety of sedimentological and geochemical tools, including lake sediments, paleosols, and root carbonates. Her work on the Engare Sero Footprint Site in Tanzania has recently been showcased by a number of news outlets including the Washington Post, National Geographic, and many others. Dr. Liutkus-Pierce is a National Geographic Explorer, and was named a Fellow of the Explorers Club in 2017.
Education
B.A. Bucknell University
M.S. Rutgers University
Ph.D. Rutgers University
Courses Taught
GES 1103 - Environmental Change, Hazards, and Resources
GES 2250 - Evolution of the Earth
GES 3800 - Introduction to Sedimentology and Stratigraphy
GES 3810 - The Reef Environment and Geology of Modern Carbonate Systems
Website
Recent Publications
Visit Dr. Liutkus-Perce's profile on Google Scholar.
Liutkus-Pierce, C. M., Takashita-Bynum, K. K., Beane, L. A., Edwards, C. T., Burns, O. E., Mana, S., ... & Kirera, F. M. (2019). Reconstruction of the Early Miocene Critical Zone at Loperot, Southwestern Turkana, Kenya. Frontiers in Ecology and Evolution, 7, 44.
Liutkus-Pierce, C. M., Zimmer, B. W., Carmichael, S. K., McIntosh, W., Deino, A., Hewitt, S. M., ... & Deocampo, D. (2016). Radioisotopic age, formation, and preservation of Late Pleistocene human footprints at Engare Sero, Tanzania. Palaeogeography, Palaeoclimatology, Palaeoecology, 463, 68-82.
Grossman, A., Liutkus-Pierce, C., Kyongo, B., & M'Kirera, F. (2014). New fauna from Loperot contributes to the understanding of Early Miocene catarrhine communities. International Journal of Primatology, 35(6), 1253-1274.
Bennett, M. R., Morse, S. A., Liutkus-Pierce, C., McClymont, J., Evans, M., Crompton, R. H., & Thackeray, J. F. (2014). Exceptional preservation of children's footprints from a Holocene footprint site in Namibia. Journal of African Earth Sciences, 97, 331-341.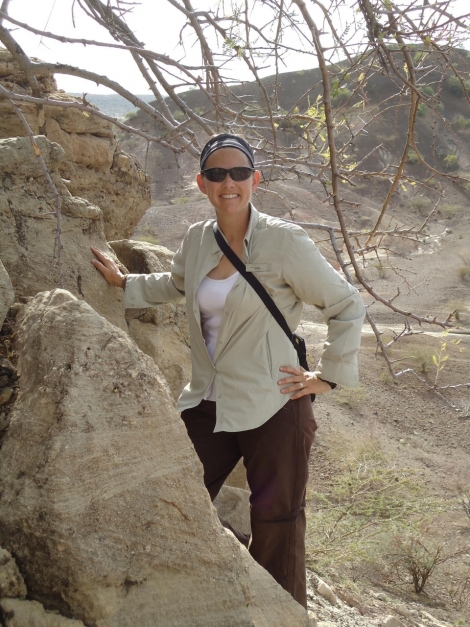 Title:

Professor and Chair: Sedimentology and Paleoenvironmental Reconstruction, (she/her/hers)
Department:

Department of Geological and Environmental Sciences

Email address: Email me

Phone: (828) 262-6933