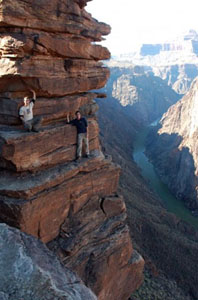 The Department of Geological and Environmental Sciences offers a BS and BA in Geology, as well as a BS in Environmental Science, and many specialty concentrations. We do not have a graduate program, which allows our faculty to concentrate on teaching and research with undergraduates.
If you are interested in becoming a major, contact our Office Manager Lauri Miller (RSW 033), who will assign you a departmental academic advisor. Before you declare, please read through a description of our degree tracks (below) and go over our What should I major in? page with your University College pre-major advisor to make sure that you find a degree track and academic program that is right for you.
Geology
Geology (BS) 244A: This standard geology degree produces a well-rounded graduate who is prepared to go to graduate school or directly into industry. This degree track is the department's most flexible track, but still requires considerable external coursework in calculus, chemistry, and calculus-based physics, as well as an intensive summer field course in geology.
Geology (BA) 244A: Students pursuing this degree option take all the same classes the the BS in Geology (above) but must also declare a minor field of study as well as satisfy a foreign language requirement. Students who are double majoring in a BA-granting degree track typically use this degree track.
Geology with Concentrations
Geology (BS) - Environmental Geology 259C: This concentration provides graduates with the ability to apply geological principles to the solution of environmental problems. Graduates with this degree track will study modern earth processes and use analytical techniques that are applicable to measuring active systems, and learn the hands-on skill set needed to go straight into the environmental industry upon graduation. A summer field course is encouraged, but not required for this track.
Geology (BS) - Paleontology 259D: This program builds off the BS in Geology and targets the dedicated undergraduate interested in pursuing a career in paleontology or the petroleum industry by providing a strong interdisciplinary background rooted in geology and biology, opportunities for student research in paleontology and museum studies, and a program of study designed to facilitate entry to graduate school.
Geology (BS) - Quantitative Geoscience 259E: This concentration is for students who are interested in the mathematical and computational side of geology. This track provides graduates with the technical skills that they need to succeed at the graduate level, especially for those interested in the fields of hydrology, hydrogeology, structural geology, engineering geology, environmental geology and geophysics.
Geology (BS) - Earth/Environmental Science Secondary Education 259F: Earth Science is taught in all North Carolina public schools at the secondary level. A concentration in secondary education prepares graduates for public school teaching. Graduates are Highly Qualified as defined by the regulations set forth by the federal government and No Child Left Behind. Upon graduation, students with this degree qualify for double licensure in Earth Science and Comprehensive Science in the state of NC.
Environmental Science
Environmental Science (BS) 121A: This degree is for students desiring a broad and interdisciplinary approach to studies in the environmental sciences and capitalizes on the cross-disciplinary expertise available at Appalachian. A summer field course is not required.
Environmental Science (BS) - Environmental Professional 121B: Students pursuing this degree option are interested in the policy and regulatory aspects of environmental science. A summer field course is not required.
Requirements for graduating with a degree in the Geosciences from Appalachian
In addition to completing the necessary coursework, all Geology students (except for those receiving a B.S. in Geology with an Earth/Environmental Science Secondary Education concentration, or a B.S. in the Environmental Science tracks) must take and achieve a satisfactory score on a series of comprehensive examinations covering theoretical and practical aspects of areas of geology during their senior year (aka "Senior Exams"). Information about these exams is provided here.
Other useful information