McKinney Museum Background
F. Kenneth & Marjorie J. McKinney
To commemorate Ken's contributions to Paleontology and to the Department of Geology at Appalachian, the McKinney Paleontology Scholarship Fund has been established. Donations can be sent to the Department of Geology with this designation.
The splendid intellectual life of Dr. F. Kenneth "Ken" McKinney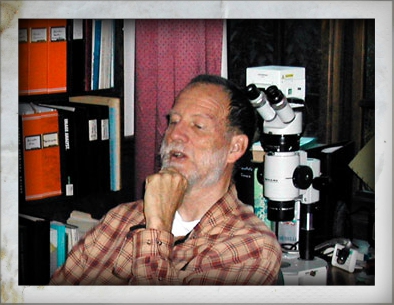 Appalachian State University has long prided itself on providing students with an intensive high-quality liberal arts educational experience as well as exposing them to faculty who are engaged in cutting-edge research. In short, Appalachian strives to offer exactly what Dr. Frank K. (Ken) McKinney (1943-2011) embodied in his three decades on campus from 1968-1998 and as an emeritus professor since then.
Ken was a founding member of the Department of Geology and began his career at the then newly renamed Appalachian State University in 1968, when the mission of the institution was focused entirely on undergraduate education. Although he was hired as a 25-year-old instructor with a master's degree, Ken demonstrated through his own educational and professional choices that the best educators are those who engage in life-long education, who create new knowledge through original research, and who encourage students to participate in that experience. Not only did he finish, and publish, his doctoral dissertation, meriting promotion to the professorial ranks, he embarked on a publishing career that would span the next four decades.
Ken taught demanding courses with a paleontological emphasis, including both the introductory "Historical Geology," and the department's longtime capstone course "Paleontology and Advanced Historical Geology," capturing students' interest early in their careers and infusing the senior capstone course with rigor to prepare them for the challenges they would encounter in graduate school and their careers beyond college. Ken regularly took students out into the field to learn. The departmental archives are full of photographs from field trips he organized, taking students up and down the eastern coast, as well as to Texas, and across the American West, including two summer trips to North Dakota to excavate a Triceratops skeleton. Later he would join Fred Webb Jr., another founding member of the department, to teach field geology to Appalachian students in Italy.
In the 1970's and 80's Ken was among the leaders in the Appalachian community in developing a culture of scholarship. Early in his career, he was personally responsible for a significant number of the peer-reviewed publications and funded grants produced by the entire Appalachian campus. Ken was recognized as such by his peers at Appalachian in 1995 when he was awarded the first Donald W. Sink Outstanding Scholar of the Year award from the College of Arts and Sciences. In addition, Ken McKinney was active in expanding the broader academic culture of Appalachian. He was influential in organizing the University Performing Arts Series, an interdisciplinary lecture series, and international studies. Dr. Fred Webb Jr., Emeritus Professor, and founding Chair of the Department of Geology, said, "It is unfortunate that institutional memory is rapidly fading on the early history of many programs that are considered the norm today. Ken had important input into kick-starting many of them."
Ken McKinney had many undergraduate students who were inspired in his classes and who then participated in his research. One such student, William Miller (B.A. 1975, PhD Tulane) now a Professor of Geology at Humboldt State University, Arcata, CA, noted that, "Ken remained active in his research in retirement. He and his wife Marge have a flock of loyal students who visited them whenever possible. The footprint left by the McKinneys at Appalachian is a very large one and was recognized appropriately by the University in naming the Geology Museum in their honor. They dedicated their lives to their students and co-workers, to geology, paleontology, to living an enlightened and civilized life and to serving Appalachian State." Another former student, John Huntley (B.S. 2000, PhD Virginia Tech), himself a Humboldt Fellow, Erlangen, Germany, said of Ken and his wife Marge, "Their investment in the lives of students extended beyond the classroom and laboratory. They helped my cultural experience through their participation in ASU's field camp in the Italian Dolomites. Beyond teaching students, whether geology or cooking Italian cuisine, Ken and Marge loved their students and invested in their lives personally." Ellen Cowan, Professor of Geology at Appalachian commented, "I know that Ken and Marge had a life-long influence on many of our students, whether they eventually pursued a career in geology or followed opportunities or callings into other professions."
Dr. McKinney was an internationally known researcher and had many friends around the world. Steve Hageman, Professor of Geology of Appalachian reported, "I have received calls and e-mails from all over the world from Ken's friends and colleagues sending their condolences not only to his family but to Appalachian State University as a whole. For example, the British Museum of Natural History in London sent flowers to his memorial service." Hageman added, "The number of scholars around the world who repeatedly described Ken as 'a mentor' is a testament both to his intellectual influence and the life-long bonds that he formed with people." David Meyer, Professor of Geology at the University of Cincinnati shared, "Ken is one of my all-time most respected colleagues, for so many reasons. I have always thought the world of him, and I am so thankful I knew him and have benefited from his many contributions and insight."
During his career, Ken published at least 128 peer reviewed publications including five books and seven monographs (100+ pages). Dozens of these postdate his "retirement" in 1998, including several manuscripts currently under review. Ken was the sole or senior author of ninety-five of these publications. Highlights include his books, Bryozoan Evolution,with J. B. C. Jackson (1989) and The Northern Adriatic Ecosystem: Deep Time in a Shallow Sea (2007), as well as three articles in the journal Science (one featured on the cover). Johnny Waters, chairman of the Department of Geology at Appalachian noted, "Ken's publication record is impressive by any standard, but all the more so when you recognize that he did this in a department without graduate students or in collaboration with a long-standing research group. Ken was not only an intellectual force, he was a master of the process of writing, peer review and publication of his scholarship."
Ken's research career amply demonstrated the power of paleontology to unravel complex evolutionary problems. Some might construct models, others might collect fossils, still others are itinerant travelers to museum collections, but few combine the theoretical framework with first-hand knowledge of the strengths and weaknesses of such collections as Ken did. Andy Heckert, Associate Professor in the Department of Geology oversees the F.K. and M.J. McKinney Geology Teaching Museum at Appalachian. As is true of many museums, the treasures behind the scenes dwarf those on exhibit. He noted, "As impressive as the McKinneys' initial efforts in the museum are, the basement holds the true fruits of their labors - extensive paleontological collections, organized stratigraphically or taxonomically, according to how they might be best utilized to investigate an intellectual question, either for teaching or for research." These collections, Heckert notes, are meticulously documented and a priceless aid not only to the museum exhibits, but also to the department's teaching mission.
Ken McKinney received multiple grants for his research from external funding agencies including National Geographic, the National Science Foundation, the National Academy of Science, the Fulbright Foundation, and the Petroleum Research Fund of the American Chemical Society. In the late 1970's and early 80's, Ken participated in a new program of scholarly exchanges between the United States Academy of Science and those of eastern European countries, including the Soviet Academy of Science, the Czechoslovak Academy of Sciences, and the Academy of Arts and Sciences of Yugoslavia.
Because of the time that McKinney spent at their institutions, using their collections and collaborating with their staff in research, he was a formal research associate with many institutions, including The Field Museum of Natural History, Chicago; The American Museum of Natural History, New York; and The Virginia Museum of Natural History, Martinsville, Virginia. In addition, he formally spent time in residence at the Smithsonian, the United States Museum of Natural History, The University of Durham, UK, and Cambridge University, UK.
Dr. McKinney was President of the International Bryozoology Association (IBA) from 1998-2001, when he presided over the 12th meeting of the IBA in Dublin and was instrumental in bringing the business and activities of the Association onto the internet with its first web page. The 14th IBA meeting was held in Boone in 2007, in part as a celebration of his career and influence. Delegates from 28 countries attended the conference, and all were treated to a series of receptions graciously hosted by the McKinney's at their home in Boone. The proceedings volume from the 14th IBA meeting, published by The Virginia Museum of Natural History, was dedicated to Ken and Marge McKinney in recognition of their life-time contribution to the field.
As Councilor of the Paleontological Society for two terms (1980-1981 and 1992-1995), Ken initiated and expanded the Society's Distinguished Lecture Program. As Chair of the Paleontological Society Education Committee (1993-1996), Ken organized and led workshops for K-12 teachers at national meetings of the Geological Society of America, with Judy Scotchmoor, which resulted in the successful volume, Learning from the Fossil Record, still available on the Berkeley Museum web site.
Ken McKinney was born April 13, 1943, in Birmingham, Alabama, where his father worked in the steel mill. Ken attended Birmingham Southern College studying with Wiley Rogers and received a B.S. in Geology from Old Dominion (1964). He received a PhD in Geology from the University of North Carolina, Chapel Hill (1970), where Joe St. Jean was his advisor. He began teaching at Appalachian State University in 1968 and retired in 1998. Ken is survived by his wife, Marjorie Jackson McKinney (pictured right), who also had a 20-year career in the Department of Geology, along with two sons and two daughters. Ken and Marge met as undergraduates and supported each other in a shared, life-long love of paleontology, geology, culture, music, and fellowship with friends, colleagues and family.