Ashe Metamorphic Suite - Multiple Locations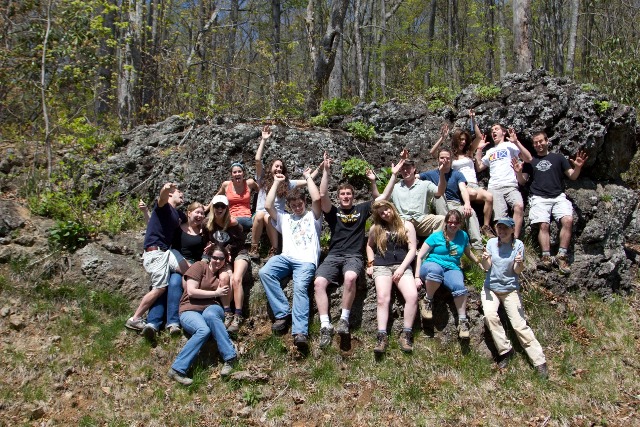 Pelitic Schists
Pelitic schists are in outcrops on the north side of the road and under the NC221 Bridge by the New River in Ashe Co, north of Boone, NC. Abbott and Raymond (1984) identify three zones within amphibolite facies conditions recorded by different combinations of kyanite, biotite, garnet, and staurolite coexisting with plagioclase, quartz, and muscovite. The schists at the 221 outcrop contains +/- sillimanite, kyanite, biotite, garnet, and staurolite porphyroblasts up to 1+ centimeters.
Ultramafic bodies can be categorized into 5 groups based on mineral associations of: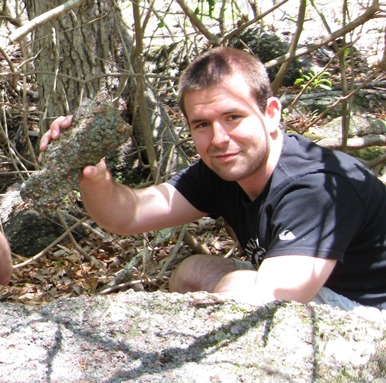 brucite
chrysotile
diopside
enstatite
forsterite
magnesiocummingtonite/anthophyllite
talc
tremolite
The variation in mineralogy is likely due to hydration and recrystallization reactions.
The assemblages range from high grade, anhydrous olivine-rich assemblages to lower grade assemblages containing amphiboles (anthophyllite, tremolite, magnesite, and talc) (Swanson and Raymond, 2010). Students can collect porphyroblastic garnet (>1 cm) chlorite schist and magnetite bearing chlorite schist in on the border of Watauga and Ashe Counties, north of Boone, NC.
Eclogite (Stop 1, Optional Stop)
Eclogite (garnet + omphacite + quartz + rutile) occurs locally near the base of the thrust and records high-grade, eclogite facies conditions of 13-17 kbars and 625-790 C. Eclogite Stop 1 has smaller crystals, but parking is considerably easier than at the Optional Stop where parking can be problematic, particularly for large groups.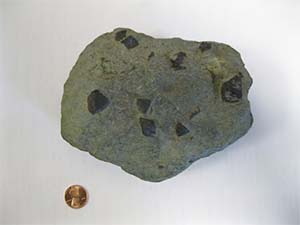 Amphibolite
(widespread throughout northern Watauga and central Ashe County area)
Upper amphibolite facies assemblages are pervasive in hornblende and plagioclase schists and gneisses (amphibolite) and pelitic schists and record PT-conditions of 8.5-12 kbars and 6500-7300C (Willard and Adams, 1994). Minor greenschist facies overprinting also occurs thoroughout these rocks.
Useful References
Willard, R. A., and Adams, M. G., 1994, Newly discovered eclogite in the southern Appalachian orogen, northwestern North Carolina, Earth and Planetary Science Letter, v. 123, p. 61-70
Abbott, R. N., Jr. and Raymond, L. A., 1984, The Ashe Metamorphic Suite, northwest North Carolina: Metamorphism and observation on geologic history: American Journal of Science, v. 284, p. 350-375
Swanson, S. E., and Raymond, L. A., 2010, Petrogenesis of chromite in metaultramafic rocks of the Spruce Pine Area, North Carolina, Southeastern Geology, v. 47, no. 3, p. 147-172.