BS Geology - Earth/Environmental Science, Secondary Education 259F[T]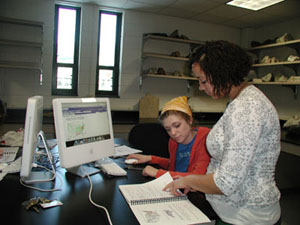 Earth Science is taught in all North Carolina public schools in during the eighth grade. A degree from the Department of Geology with a concentration in Earth/Environmental Science, Secondary Education prepares you for teaching these students. After graduation you will be Highly Qualified as defined by the regulations set forth by the federal government and No Child Left Behind. Upon successful completion of the program, our students all qualify for double licensure in Earth Science and Comprehensive Science.
Through the requirements of this program you will have opportunities to spend time in public school classrooms from elementary to high school. You will also get to observe introductory geology labs while helping teach in an ASU classroom. Your experience at ASU will culminate with the Student Teaching Semester. Our students typically have student teaching internships in Watauga, Caldwell, Avery or Ashe Counties, but there is also a program for you to student teach internationally.
Classes
The courses for this major cover several disciplines in preparation for a career as a science teacher at the high school level. Over the course of your time at ASU you will take many science classes in geology, physics, chemistry, biology, weather and climate, and astronomy. Once you have completed the requirements and been accepted into the Reich College of Education, you are allowed to register for your upper level education courses. The courses that you cannot take until accepted into the Reich College of Education are: CI/FDN/RE 3850, FDN 3800, GS 4403 and student teaching CI 4900. GS 4403 is a methods course where you will spend time in a public classroom, learn how to develop teaching materials, and learn to teach an inquiry-based science class. During student teaching students take the Praxis II Earth and Space Exam.
Personnel
For more information on becoming a geology major in the teaching track please contact Laura Mallard at mallardl@appstate.edu.
Useful Links