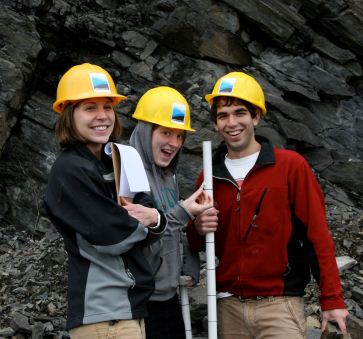 What's so special about the Geological and Environmental Sciences Department?
We have been successful in establishing a program that is arguably among the best Bachelor degree programs in the geosciences available in the southeastern United States, and we are proud to be home to the largest undergraduate geosciences program in the UNC system.
Recent research indicates that geology majors are the happiest students on college campuses, and our senior exit surveys indicate this is likewise true at Appalachian.
The close personal contact between faculty, students, and staff results in a feeling of belonging to a tightly knit group. Special privileges, such as keys and 24 hour access to teaching labs, independent research opportunities, and a dedicated undergraduate computer lab are among the benefits of our program.
We have numerous concentrations within our degree program, which can be found on our Degree Tracks page.
What's the difference between a degree in Geology versus Environmental Science? How are these different from the other environmentally-based majors at Appalachian?
Many students come into our program a bit confused as to what the geosciences and environmental sciences actually are. Geology is not just about rocks, and environmental science involves a rigorous interdiscplinary science and math curriculum. Click here for a detailed explanation between the different degree tracks involving the geosciences and environmental sciences here at Appalachian, and see whether or not this program is right for you. If you aren't sure which degree program is right for you, this page will help guide you to the degree track that is right for you - either in this department or in a different department.
What kinds of jobs can you get with a BS in Geology or Environmental Science?
94% of our graduates are employed in the geosciences. Click here to find out about the specific jobs available to our graduates, and examples of where our graduates are currently working.
What are the opportunities for undergraduate research?
Since Appalachian's Geological and Environmental Sciences program is undergraduate only, there are numerous opportunities to get involved with research that would not be available in research universities that cater more to graduate research. Research in the Department is a privilege, not a right - the faculty have very high standards for their own and their students' performance. Students who elect to do Independent Research and Senior Theses have access to state-of-the-art facilities, and most go on to graduate programs.
Where do our students go to graduate school?
Our students typically receive full tuition waivers and stipends to attend graduate programs, so paying for graduate school is not a problem. Some of our recent graduates have received MS or PhD degrees at Scripps Institute of Oceanography, Brown University, the University of Chicago, the University of Maryland, the University of Wisconsin, the University of Oregon, the University of Kansas, Texas A & M, the University of Utah, Clemson University, NC State University, Virginia Tech, and many, many more.
Additional Links for Prospective Students