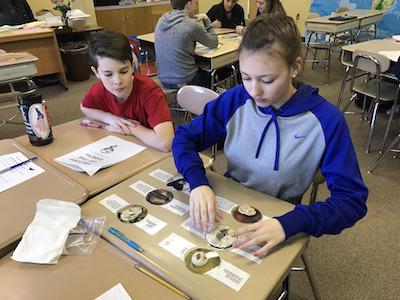 At Appalachian Geology we feel honored when we are given the opportunity to provide earth science education to the general public and to school students. This week we were able to do that in two different settings: at an eighth grade classroom in Wataga and at the Schiele Natural History Museum in Gastonia.
On Friday we were invited to Mrs. Elliott's 8th grade class at Parkway Elementary School. Classroom visits allow us to interact with students more closely than when they're passing through for a campus visit, as well as get a chance to catch up with their teacher and find out where they are at in their learning cycle and where they are heading. Usually we are also able to bring them fossil samples to add to their collection and leave them other learning resources on loan. The topic this time was history of life on Earth, an area which usually uncovers many preconceptions held by students. In this case, students were given the opportunity to handle real fossils and try to determine what type of organism they are, how they became a fossil and where they would place them in the geological time scale.
On Saturday morning, the Finding Fossils on Friday (FFF) crew set off early down the mountain to Gastonia. They joined other university paleontology researchers and exhibitors at the Fossil Fair in the Schiele Natural History Museum. The group was led by Dr. Heckert and consisted of Sophomore, Junior and Senior Geology majors in the Paleontology track. They demonstrated some of the work they carry out, like the painstaking task of examining and categorizing miniature fossil fish teeth. They also had a variety of bigger fossils for the kids to interact with and ask questions about. As always, they did a wondeful job representing Appalachian State University.
One parent's email following the event read:
"Dr. Heckert—each of the past two years, we've had the pleasure of taking our son (who is 5 years old) to the Schiele Museum's Fossil Fair. I wanted to drop you a quick note to thank you and your students for the excellent display and, more importantly, the time they spent interacting with my son. Both years we have been able to attend, we have been impressed by how polite, excited, and engaged your students are—and how great they are at sharing that excitement with my son. You should be exceedingly proud of them."
A shout out to: Nick, Austin, Delaney, Amanda, Ashley, Glen and Emma for their dedication, giving up a Saturday to share their knowledge of paleontology with many families.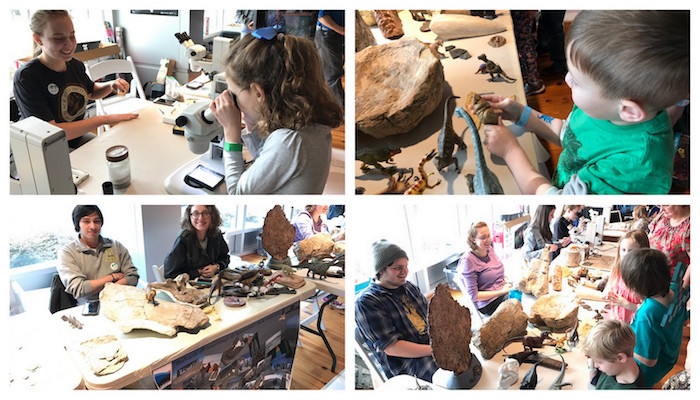 Tags: