The Department of Geological and Environmental Sciences continues to expand its outreach offerings. This weekend we kicked off our "Geo-Detective" program for Girl Scout Juniors, which we hope to offer annually. The program was developed in collaboration with Alberta Swain, from the Piedmont to Peaks NC Council and a group of Girl Scout Cadettes working on their leadership badge.
On the evening of Sunday January 29th, twentyfour mini guest detectives from Girl Scout Troops based in Watauga and Ashe County, joined GES students Kevin Bunym, Jacob Pratt, Annie Klyce and Anthony Wade to solve "The Case of the Missing Fossil". The premise: a fossil on loan from the Smithsonian Institution was stolen from the McKinney Geology Museum on campus and several suspects were taken into custody. The girls' task was to process the evidence recovered from the crime scene and determine if there was enough supporting evidence to pin the crime on one of the suspects.
The event was set up as a series of stations the girls rotated through after examining the scene of the crime, meeting the senior detectives and receiving their confidential case files. Stations included: map study, fingerprint analysis, microscopic observation of sands, footprint analysis, rock and mineral identification, specimen identification and solving a riddle to locate the missing fossil.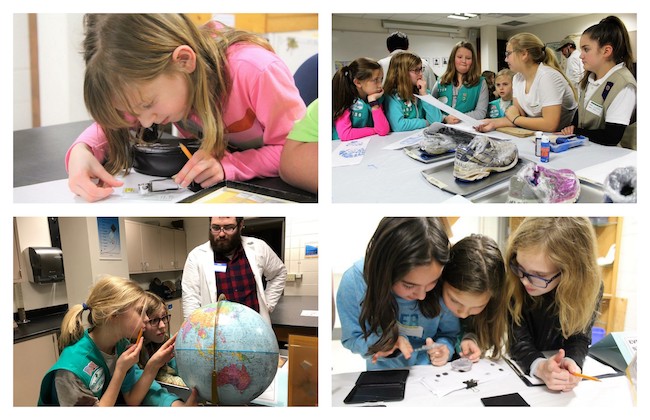 By the end of the night, the guest detectives send their reports to the police department and all but one of the suspects was set free (we wont give away who is still under arrest as there is a second batch of detectives coming to try their hand at cracking the case).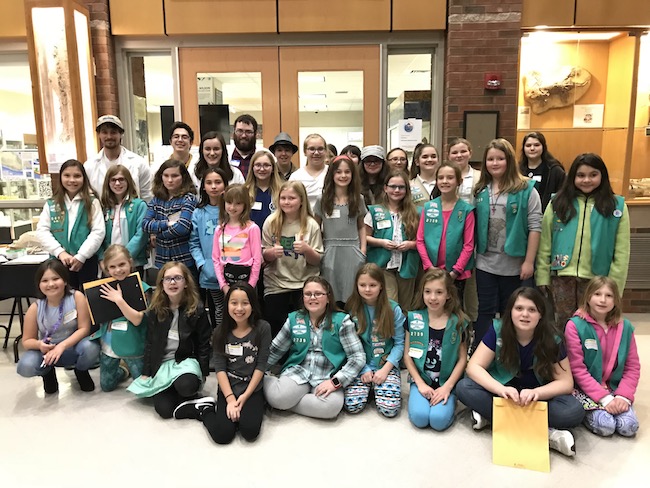 Marta Toran, the Outreach Coordinator at AppGES organized the materials for the case and put together the activities. She was assisted on the day of the event by AGES undergraduates Annie, Jacob, Anthony and Kevin. A big thank you to Girl Scout Cadettes Cheyenne Trivetter, Cami Azpurua, Shannon Royal, Lessie Rash, Martina Walters, Aurora Randolph, Chasity Carpenter and Deann Butler for their leadership in helping to prepare the event and being role models for the Juniors. We couldn't have solved the case with the enthusiastic Girl Scout Juniors who attended and Alberta Swain who coordinated meetings and all aspects of registration. Thanks also to Vicki Randolph who took some amazing photographs. We look forward collaborating on the next case.
Watch a videoclip of the event below. For more photographs, see the Girl Scout Geo Detective photo gallery.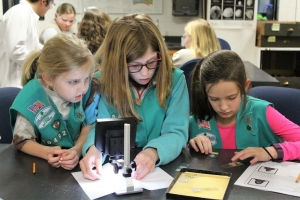 Tags: