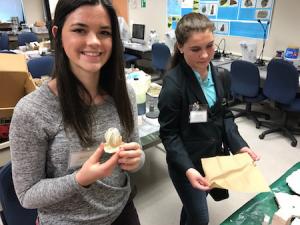 The Department of Geology at Appalachian State University hosted the first, 1-Day Geology Internship for High School Students on October 20th. The program aims to provide 10th and 11th Graders the experience of being a geology major for a day. Marta Toran, Outreach Coordinator for the department developed the program in collaboration with Dr. Steve Hageman. Tracey Tardiff from College Access Partnerships assisted in coordinating the event.
Five students were selected from local schools to participate in this unique experience based on performance in science courses and teacher recommendation: Anna Blackburn (Ashe High School), Salem Brown (Ashe High School), Caroline Current (Ashe High School), Emerson Wells (Ashe High School), Hallmon Hughes (Watauga High School).
The Internship was a joint department effort with almost every faculty member participating as well as a number of geology undergraduates. The day started off with an introduction by Dr. Cynthia Liutkus-Pierce, who shared with the participants her passion for historical geology and some highlights of her research.
Dr. Andrew Heckert lead a highly anticipated session on fossil preparation in which the students got first hand experience casting trilobites, megalodon teeth and crinoids. They also learned about undergraduate research opportunities and the Triassic field course, which Dr. Heckert organizes every summer.

Volcanologist Brian Zimmer hosted snacks in his office and discussed his recent work involving photogrammetry. Senior geology major Grant Monteith, who is also working on this 3D modeling technique, gave a demonstration of its applications in geology.
Students tagged along with Dr. Daniel McInnis' GLY1104 hydrology lab, which was doing a stream study, and then joined Laura Mallard, Crystal Wilson and Kelley Fraser for a lesson in the Rock Garden and a tour of the McKinney Teaching Museum. They also met Dr. Bill Anderson and Senior Travis Hartney, who popped in to say hi and share his story about how he switched from Art to Geology but still gets to enjoy art in nature through mineralogy.
Students Claire Martin, Delaney Ryan and Olivia Paschall hosted the girls for lunch at the Roess Dining Hall because no college experience is complete without hitting the cafeteria.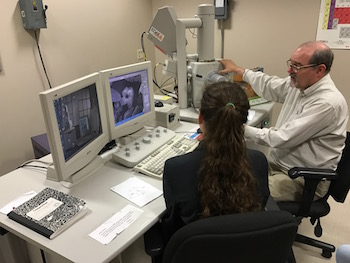 The afternoon was dedicated to a workshop in electron microscopy led by Dr. Steve Hageman and his student River Rose. The participants had collected dust samples prior to the internship and were able to examine those under the SEM with Dr. Hageman's guidance. Working with a scanning electron microscope is something not many high school students ever geta chance to do!
Dr. Sarah Carmichael and Dr. Jamie Lavine wrapped up the internship in the geology museum telling the girls about their research. It was a great day enjoyed by all that provided the opportunity for the university to host rising science stars and for the students to interact with some accomplished researchers and students.
The Department of Geology would like to thank the Office of College Access Partnerships at ASU for sponsoring the students' meal cards and gear, and Deborah Baldridge (AHS) and Josh Roberts (WHS) for their help coordinating the communication with students. The department hopes to continue this program annually.
For more pictures of this event, please visit the One Day Internship photo gallery.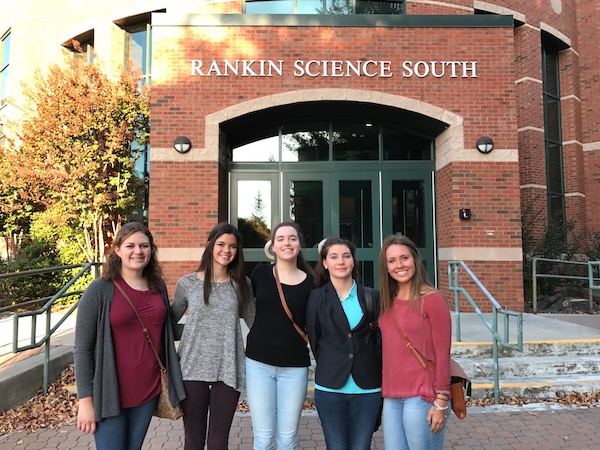 Tags: