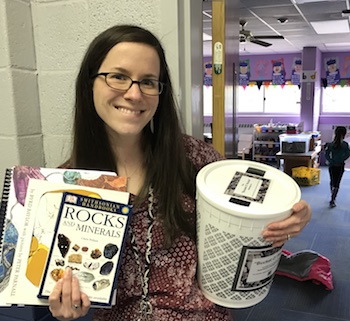 The Department of Geological and Environmental Sciences launched the "Bucket O' Rocks" program this year to provide support and earth science resources to elementary school teachers. For a couple of years now, we have been viisiting first grade classes at Hardin Park School, Cove Creek School and Two Rivers Community School to do lessons on rocks. This year, we wanted to develop the program further to provide free rock samples to all first grade teachers in Watauga County and create curriculum materials around them that could be accessed online by any teacher. The "Bucket O' Rocks" program was born.
The materials that make up the Bucket O' Rocks are aligned with first grade essential science standards in particular. The department also provides free teaching materials aligned with fourth grade, middle school and high school. More information about these resources can be found at http://mckinneymuseum.appstate.edu/.
The Bucket O' Rocks includes rock and mineral samples for an introductory lesson to earth materials set up as rotating learning centers. It also comes with a notebook containing the corresponding lesson plan, handouts, and assessment and extension ideas. All teaching materials can also be found online under the K-2 "Hard as a Rock" section at https://mckinneymuseum.appstate.edu/hard_as_a_rock.
Buckets O' Rocks were distributed to all twenty first grade teachers in Watauga County public schools during the Spring of 2017. With support from the Public School Partnership at the Reich College of Education, each class also received three books about rocks funded through a grant awarded by the Public School Partnership: Everybody Needs a Rock by Byrd Baylor, A Rock is Lively by Dianna Hutts Aston and a Smithsonian Handbook on Rocks and Minerals.
Laura Mallard and Marta Toran, who created the first grade program, modeled lessons at Hardin Park, Cove Creek, Mabel, Bethel and Two Rivers Community Charter Schools. Most of these classes also participated in a second lesson on Magnificent Minerals (which we hope to be able to provide free samples for soon as well, so that teachers can deliver the lesson themselves if they prefer). Seven of the classes then visited the department's facilities on campus and participated in more hands-on activities there.
The Bucket O' Rocks were well received by teachers and students, and everyone in AppState GES involved in the project enjoyed sharing the enthusiasm with which the children approached earth science. We look forward to continuing these collaborations and providing support to K-12 science educators.
Special thanks to the following teachers for inviting us to their classrooms to pilot this program: Maria Nash, Olga Fairbanks, Amy Eberle, Crystal Norris, Meghan Scott, Anne Donadio, Donna Martin, Gayle Oliver, Susan Brookshire, Courtney McKinney and Kim Jolly.
Thank you also to the PSP at Reich College of Education for providing the grant that covered the cost of the books.
Tags: