Looking for Answers in Geology Lab?
*** As part of the COVID-19 Response, the Answersphere will be held virtually. A Zoom room has been created that will be open during the regular Answersphere hours (Sun-Thur 5:30-8:30pm) and will be staffed by Answespherians. Go to Virtual Answersphere.***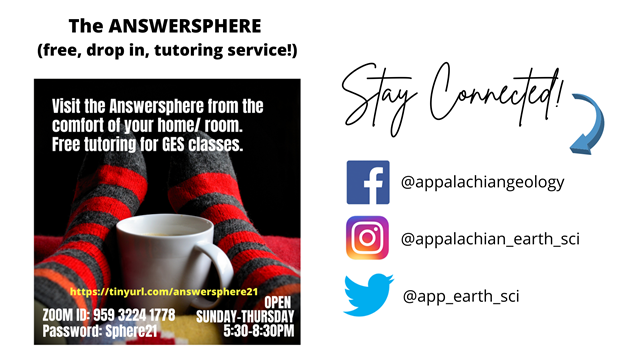 Answersphere Meeting ID: 959 3224 1778
Passcode: Sphere21
The Answersphere is the in house tutoring system in the AGES Department and the McKinney Teaching Museum. AGES majors are available to assist students in introductory classes.
Funding from the College of Arts and Sciences makes the Answersphere possible.
All sessions are held in the McKinney Teaching Museum located on the first floor of Rankin Science South (Rankin South 108).
SPRING 2021 Hours
Sunday through Thursday: 5:30 - 8:30 pm
Friday and Saturday - no Answersphere hours