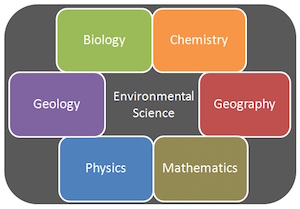 The Environmental Science Program was merged into the Department of Geology in 2017, forming the Department of Geological and Environmental Sciences. See our explanatory page for more information about this merger.
After a review of the needs of the environmental industry, this particular concentration has been discontinued. In its place, we have revised the BS in Environmental Science to have two tracks: the earth systems science track and the life sciences track.
Curriculum (through 2018-2019 academic year)
The curriculum for the Environmental Science - Environmental Professional program was a science-intensive, cross-disciplinary experience where students took a suite of core introductory courses in Physics, Chemistry, Biology, and Geology, along with 2 semesters of calculus and a statistics course. Students were required to take another 20 semester hours of advanced environmental topics courses from a variety of disciplines (such as ecology, environmental chemistry, hydrogeology, Geographical Information Systems, etc.). Students in the Environmental Professional degree track also took courses in political science, planning, and environmental regulations.