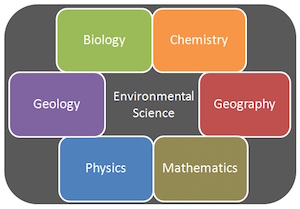 A B.S. in Environmental Science with an Environmental Professional designation is for students who are more interested in the policy and regulatory aspects of environmental science but still desire a rigorous scientific background.
The Environmental Science Program was merged into the Department of Geology in 2017, forming the Department of Geological and Environmental Sciences. See our explanatory page for more information about this merger.
How is a BS in Environmental Science different than a BS in Geology with the Environmental Geology concentration, or a BS in Environmental Science with an Environmental Professional concentration?
For more information, see our What should I major in? page about the difference between all the environmentally-based degree options at Appalachian.
Classes
Curriculum for the Environmental Science - Environmental Professional program is a science-intensive, cross-disciplinary experience where tudents take a suite of core introductory courses in Physics, Chemistry, Biology, and Geology, along with 2 semesters of calculus and a statistics course. Students then take another 20 semester hours of advanced environmental topics courses from a variety of disciplines (such as ecology, environmental chemistry, hydrogeology, Geographical Information Systems, etc.). Students in the Environmental Professional degree track take additional courses in political science, planning, and environmental regulations.